The Cat Helicopter Song was shown at US TMZ TV-Show at 5 June 2013. They talk with Comedian Bryan Callen about drone helicopter pizza delivery, when someone asks: "Have you ever seen helicopter cat? Some guy taxidermied his cat into a helicopter and made a music video." Then they show a little snippet of the Song. Go to 0:40 to watch the helicopter cat scene.
TMZ ?
TMZ on TV, or simply TMZ and TMZTV, is an American syndicated entertainment and gossip news television show. The program is generally aired on Fox, The CW and MyNetworkTV. It is essentially a television version of its sister operation, TMZ.com, a news website with a heavy emphasis on gossip of celebrities' personal lives
http://en.wikipedia.org/wiki/TMZ_on_TV
Original Cat Helicopter Song
Click the photo to see the original Cat Helicopter Song. Free MP3 too!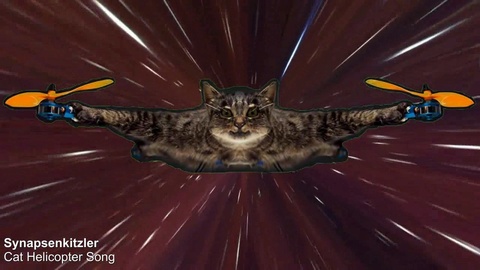 click here to see the original and full Cat Helicopter Song