I made the Berlusconi Bunga Bunga Song, which for some reason is 69 minutes long... A Milan court sentenced Silvio Berlusconi, the former Italian prime minister, to four years in prison for tax fraud! Berlusconi, kind of italian politician, says "i will resign". Better late than never ...
Synapsenkitzler--Berlusconi-Bunga-Bunga-Song
And a special, 25 seconds ring tone version for you to download:
Synapsenkitzler - Bunga Bunga Song (ring tone)
Bunga bunga
"Bunga bunga is a phrase of uncertain meaning that dates from 1910 if not earlier. By 2010 the phrase had gained popularity in Italy and the international press as well, when it was used by the Italian Prime Minister Silvio Berlusconi to refer to his alleged sex parties, which caused a major political scandal in Italy."
http://en.wikipedia.org/wiki/Bunga_bunga
Silvio Berlusconi
http://en.wikipedia.org/wiki/Berlusconi
27 November 2013: Berlusconi expelled from parliament:
The Italian Senate votes to expel ex-Prime Minister Silvio Berlusconi from parliament over his conviction for tax fraud. Bye Bye Berlusconi. Read more at http://www.theguardian.com/world/2013/nov/27/silvio-berlusconi-ousted-italian-parliament-tax-fraud-conviction
4 October 2013: Italian Senate panel recommends Berlusconi expulsion
A cross-party panel of the Italian Senate has recommended the expulsion from the chamber of Silvio Berlusconi over his conviction for tax fraud.read more at http://www.bbc.co.uk/news/world-europe-24396099
10 April 2014: Silvio Berlusconi to 'entertain' the elderly and help at meal times
"A court in Milan ruled yesterday that as his sentence for tax fraud the billionaire media mogul would be performing community service in Cesano – "once a week and for a period of no less than four consecutive hours" – in a centre for the elderly and disabled."read more at theguardian.com
What a lame punishment is this??? Unbelievable.
Funny photo from the video: Berlusconi as The Joker
Fun anagrams of "Silvio Berlusconi" (german):
viel SOS in Club Rio,
Boss ici voll Ruine,
Rubi is voll nice so,
Revisions Club Oil,
ici er is voll Bonus,
uns Rico leblos VII,
Er Bonus Civil Silo,
CSU Lob Sir Violine,
so invisibler Clou,
Ironie bis CSU voll,
Silicon Bus Oliver,
Club Revision Soli,
n Rubi live solo sic,
US civil solo Birne,
silber clou Vision,
Silvio Busen cirlo,
CSU in Rio leblos VI,
Er Lob Silicon IV US,
Esso Ruin Civil Lob,
soli civil NSU Ober,
Source: www.facebook.com/lustige.anagramme
Funny photo: Steve Jobs, No Jobs, Blow Jobs
Text from the picture:
1955 - 2011 USA - Steve Jobs
2009 - 2011 Greece - No Jobs
1994 - 2011 Italy - Blowjobs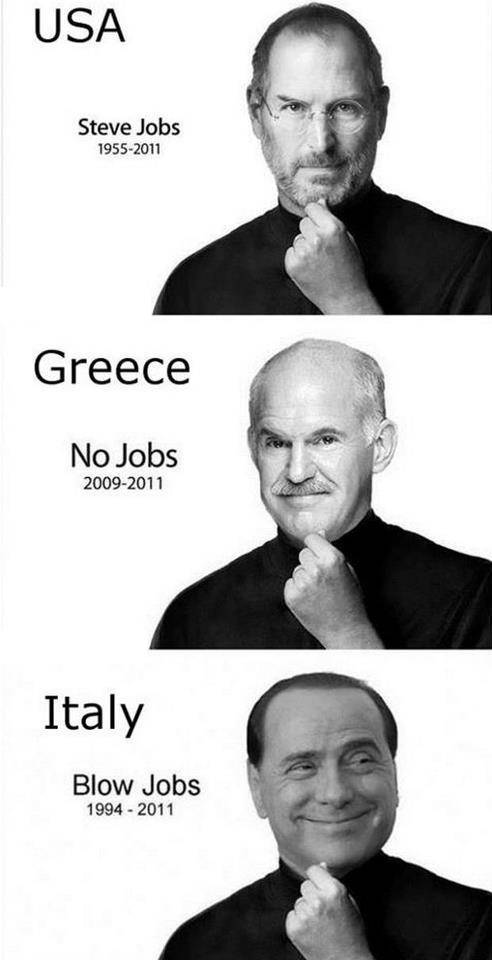 Berlusconi blowjob Photo (download)